Big data, narrative medicine, and a computer checkbox problem (Golumbia)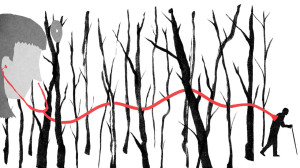 Though electronic medical records aren't within my usual area of interest, I clicked on the story on NPR "Why A Patient's Story Matters More Than A Computer Checklist"  because I agreed with the headline (my humanist bias) and was hoping that NPR could articulate it for me.
The story is a first-person account by Dr. Regina Harrell recounting a house call to visit a patient with arthritis and dementia. It's a great story, moving and  full of pathos: it's got voice, a sense of place, idiosyncratic details, and most of all it conveys the human complexities embedded in just one house call.
From there, Dr. Regina writes about trying to fit this house call into the computerized note for the electronic health record, which fails to encapsulate the patient's story to a degree that is almost hilarious, except that it is also sad. It's a comedy of errors: checkboxes that don't apply, drop-down menus that don't account for the patient's experience, a computer that forgets what you told it on the prior screen so asks you twelve more times.
The check boxes ask if the person is oriented to person, place and time. Mr. Edgars is oriented to person and place; he knows his wife and home, and he is happy nowhere else. He no longer cares what year it is. There isn't a check box for that.
Of course, it's not really the computer's fault. After all, the computer was programmed by a human, or humans.
Up pops a check-box menu: injury-related (surely the chronic wear on Mr. Edgars' knees as a farmer is an injury, but I don't think that's what the programmer had in mind)…
Dr. Regina is right. That programmer surely received system requirements that valued discrete pieces of quantifiable data from doctors over qualitative, idiosyncratic narrative. Just the facts. But what about the truth, which is not always the same as, or containable, by fact?
What about the checkbox for the way Mr. Edgars' wife is withholding his full dose of pain medicine for his arthritis because his knee pain is what keeps him from wandering off in the woods and forgetting to come home? What about the checkbox for the jar of homegrown pickled okra his wife sends home with Dr. Regina when she leaves? Well, there's finally a blank screen when she hits "exit" from the endless checkboxes.
I type the Edgars' story in my own words, so different from the computerspeak generated by the check boxes.
David Golumbia is interested in that "computerspeak" — not in the tech specs of it, not necessarily, but in what its rhetoric reflects back at us about the way we think. Electronic health records software does not "act alone" but emerged out of cultural values of rational discrete quantifiable data; "computer checklists," as the headline says. Golumbia says the pervasiveness of computational thinking in our culture is nearly invisible, but Dr. Regina sees it. And she's calling it out.
I could see twice as many patients if I could write their notes at the bedside while visiting with them. I would happily do this using paper or an EHR that took the same amount of time, but these are not options.
I spend more time talking to the information technology team than I do answering messages from patients.
Maybe, if we asked Dr. Regina, she would say there are ways in which computers have also made her job easier, have created ways for her to spend more time with patients, treat them better. It's hard to be a rural doctor and a total Luddite, I would think. Computers aren't some newfangled cause of or solution for all of our problems; Golumbia says this, too. They are both shaped by, and shape, our existing problems, values, power dynamics. Often, they serve some centralized institution of power more so than they serve the individuals who use them.
Sometimes I wonder if it is disrespectful to a patient to say 13 times in one progress note how unreliable a historian he is, but I remember that this is great data to mine for research, so I plug on.
I can't tell whether Dr. Regina is being tongue-in-cheek there, about mining data. But in either case, the medical field isn't alone: professionals in many fields are awash with the data they are expected to produce and manage. Data management plans. Data security and privacy. Data storage.
What about everything that isn't data, or doesn't translate into data? There's a recently thriving turn toward recognizing the role of arts and narrative in medicine, particularly in the role of capturing and making sense of that which data cannot; translating the "computerspeak" back into art and stories, or skipping the "computerspeak' all together. Here are some links to examples: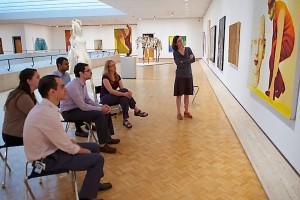 Why Painting Tumors Could Make Brain Surgeons Better
Art museum visits help doctors understand feelings
Artist Amy Cannestra's work on representing physical pain
Humanity before Science: Narrative Medicine, Clinical Practice, and Medical Education
Things that aren't data aren't necessarily convenient for a computational culture: interoperable, extensible? Where are the crosswalks? Is it machine readable? Well, maybe not. And maybe that's okay.