Review of Archivaria – Carolina Hernandez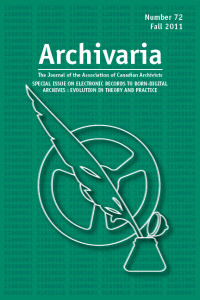 Archivaria is the semi-annual Journal of the Association of Canadian Archivists. While there is some research from Canadian archivists, this journal features plenty of work from scholars in other countries as well. As a journal representing a nation with two official languages, some of the issues feature articles written in French, but the majority of them are in English. For the purposes of this review, I will be looking specifically at the reoccurring trends that I have surmised from the English language articles that have appeared in the journal in the last two years, starting with Issue #72 Fall 2011 and going through Issue #75 Spring 2013. During this time, the journal had two special issues, one with the theme of electronic records and the other with theme of arrangement and description in archives. Though it seems as if this could skew the apparent trends towards these themes, both of these themes actually appear in several articles of the other issues and overlap with each other as well. Thus, I will focus on these two ongoing conversations occurring in the archival field.
 The continuing evolution of technology is generally a concern for information professionals wondering how it will affect their field, and this is no less true for archivists. Issue #72 of Archivaria is even a special issue with the central theme of electronic records. In particular, the topic of born-digital records appears to be a common sub-trend in this field. There is a growing interest in understanding how born-digital records come into existence and in acknowledging the physical manifestation of these records. Ciaran B. Trace discusses the necessity for archivists to go beyond the surface value of born-digital records to examine the inner-workings of the computer itself. Even Geoffrey Yeo, a common contributor to Archivaria and a scholar cited by other authors in this journal, mentions the "tactile fallacy," the false notion that because we cannot physically feel or hold them, these records lack "materiality" (89). There is also a strong emphasis on how archives education needs to constantly move forward in order to support the growing need to deal with born-digital records. Information professionals need to continuously develop themselves so as to stay current in this constantly evolving field (Lee and Tibbo 128).
 The methodologies of the articles discussing electronic records was rather varied. Some used historical analysis to ground the current conversation of this topic in context. This includes Bonnie Mak, who felt that disputes between Daniel van Papenbroeck and Jean Mabillon in the early modern period still resonate in current discussions of authenticity of digital records (8). Cirian B. Trace refers to his examination of the behind-the-scenes workings of the computer as a "microethnography" (9). However, the most common, and perhaps most practical, is the case study. Several scholars took the case study approach, either discussing a particular collection that had a large born-digital component and how to process it, or examining how education dealing with these newer materials was evolving at their particular institution. In both of these types of case studies, there was a desire to show off a working model, something from which others could hopefully learn. This does appear to be the most practical methodology, as it demonstrates the approaches that other archivists are taking and what did or did not work for them. For Patricia Galloway, the course she created serves as a model for using digital archiving education in a laboratory setting, one that shows the positive effects of this form of pedagogy (196). It certainly never hurts for one institution to examine and learn from what others in their field are putting into practice.
Meanwhile, arrangement and description is still an important topic for the field of archives. Though Issue #74 is the first special issue to focus on this theme, it still pops up in other issues of Archivaria, particularly in relation to digital records (Eastwood 3). In many of the case studies previously mentioned, a part of the concern in dealing with digital materials was how to arrange and describe this new type of collection. For example, the group of scholars working with the Salman Rushdie papers at Emory University were especially concerned with arranging and describing these materials in a way that both respected the context they were created in and acknowledged how researchers would want to access these records (Carroll, Farr, et. al. 74-75). Outside of case studies dealing with born-digital records, there are more general discussions about the current state of arrangement and description in archives.
Regardless of the type of collection with which an archivist is dealing, finding aids are an essential tool in describing a group of materials. However, the type and structure of a finding aid can differ depending on what exactly is being described. For example, Andrew Janes believes that there was a lack of research dealing with finding aids for maps from an explicitly archives point-of-view. Thus, he talks about the particular case of map cataloging at The National Archives of the United Kingdom and how its finding aids have developed in a digital age. In this particular example, Janes believes it has been beneficial for the finding aids for this specific kind of material to move to an online sphere instead of remaining on paper as it provides wider access and is easier to search (154). On the other hand, Julie Mathias shows that researchers are still interested in paper finding aids, and that perhaps there should be a balance between both formats. In fact, in moving strictly to digital finding aids, some repositories could be excluding a small subset of researchers still uncomfortable with using digital finding aids (181).
Beyond the articles, this set of issues also features several book reviews that are relevant to these trends, and not just in the special theme issues. These book reviews hint at the conversations happening in the field outside of Archivaria. A few of the reviews in Issues #72 and 73, including a couple of manuals that are meant to help those dealing with digital collections, focus on the necessary tools for an archivist in this technologically advanced age. Arrangement and description pop up in some of the book reviews of the later issues as well, though not as much. This appears to be less of a focus perhaps because it has already been discussed in other forums. One book called The Lone Arranger speaks specifically to the challenges that single archivists face working in small repositories.
By examining the last four issues of Archivaria, it is possible to see the trends on which this microcosm of the field is focusing at the moment. Despite being a Canadian journal, the multiple nationalities of the featured authors would indicate that this slice of archival studies is indicative of the larger conversations occurring worldwide. It is apparent that the problem of how to process born-digital materials is no longer just a growing concern, but in fact, the main focus of the field at the moment. So many repositories and archives are now accepting not just a few born-digital files here and there, but full-on collections of these materials. Clearly, there is a need for understanding how best to balance the desire to contextualize these materials in a way that makes logical sense and the need to provide proper access to researchers. A sustained interest and ongoing conversation in arrangement and description speaks to this as well, since it is important to see how this area of archival theory is applied to newer materials and how it might affect specific cases. These overlapping trends seems to have no end in sight as the ever-evolving technologies continue to affect both the kinds of materials we take into archives and how we will process them.
Works cited
Carroll, Laura, Erika Farr, Peter Hornsby, and Ben Ranker. "A Comprehensive Approach to Born-Digital Archives." Archivaria 72 (Fall 2011): 61-92.
Eastwood, Terry. "From the Guest Editor: Arrangement and Description of Archives." Archivaria 74 (Fall 2012): 3-6.
Galloway, Patricia. "Educating for Digital Archiving through Studio Pedagogy, Sequential Case Studies, and Reflective Practice." Archivaria 72 (Fall 2011): 169-196.
Janes, Andrew. "Of Maps and Meta-Records: Eighty-Five Years of Map Cataloguing at The National Archives of the United Kingdom." Archivaria 74 (Fall 2012): 119-165.
Lee, Christopher A. and Helen Tibbo. "Where's the Archivist in Digital Curation? Exploring the Possibilities through a Matrix of Knowledge and Skills." Archivaria 72 (Fall 2011): 123-168.
Mak, Bonnie. "On the Uses of Authenticity." Archivaria 73 (Spring 2012): 1-17.
Matias, Julie. "Improving Acess to the Records of Landed Estates: Balancing Archival and User Perspectives." Archivaria 75 (Spring 2013): 145-185.
Trace, Cirian B. "Beyond the Magic to the Mechanism: Computers, Materiality, and What It Means for Records to Be 'Born Digital'." Archivaria 72 (Fall 2011): 5-27.
Yeo, Geoffrey. "Bringing Things Together: Aggregate Records in a Digital Age." Archivaria 74 (Fall 2012): 43-91.