Dual Review of American Archivist and Archivaria – O. Bendorf
American Archivist, the journal of the Society of American Archivists, was founded in 1935, exactly forty years before its neighbor to the north– the Association of Canadian Archivists– began to publish Archivaria. So perhaps it's not all that surprising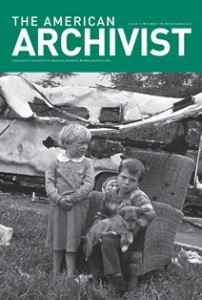 that American Archivist seems a bit more comfortable looking back, whereas Archivaria tends more to look forward. I don't want to privilege either mode, but rather to point out the goals and anxieties of each, and– ultimately– the broader portrait of contemporary archivery that emerges when taken in combination.
American Archivist is characterized by a fondness for the retrospective (not too surprising for an archival journal), and a slightly anxious and dutiful perspective on the future. Its focus is mostly on practical engagement with archives as both repositories and the profession, but not so much theory.
American Archivist isn't a dinosaur, by any means– its recent issues have acknowledged the uses of technology such as gaming and GIS for archives, and in one article Steven Bingo terms "digital historiography" for the new practice of history in a digital world. The journal's most recent issue (76:1) debuts a major redesign "to bring the journal up to date," in the words of editor Gregory Hunt– more white space, e-reader compatibility, a commitment to open access, and updated web citations, among other things.
In a way, this is emblematic of trends across the field, as well: the last two years of American Archivist show a community amid change, deliberating how (and how much) to update oneself. Many articles address what could be synthesized as an issue of adaptability: how to adapt archival practices and principles, such as provenance and reference work, for a digital climate, to an increasingly globalized and wired world while still serving users, researchers, and communities. One notable example of the focus on adaptability is "More Product Less Process," or MPLP, first conceived in an article in American Archivist 68:2 and considered a significant development in US archival approaches, prioritizing researcher access first and pristine processing second.
Other relevant articles covered topics and practices such as collaboration, user-contributed content, digital objects such as moving images, representing underrepresented groups, and various scenarios of archives as political power (Saddam Hussein, Cambodia's transitional government, University of Illinois at Chicago's records on Barack Obama and William Ayers). It would be unfair to say that American Archivist isn't covering many relevant issues, because it is– it's just that for every one of these articles, there's another that looks back or that expresses anxiety about the profession. The focus of American Archivist is very much on lower-case archives– the repositories and the profession. The perspective on technology seems to be that it's "replaying old challenges," rather than opening new opportunities. And perhaps that's reflective of the current state of the profession.
Archivaria, on the other hand, seems more comfortable existing in a hybrid print-digital world, perhaps because it already straddles two worlds: French and English. As a bilingual journal, all articles appear in both languages. A few articles focus specifically on issues of archives in Canada, but all issues publish Canadian and American authors well as those from elsewhere. Still, that didn't stop two archivists from asserting that the journal– as well as American Archivist– was "parochial" in a letter to the editor, an accusation journal found confusing.
Archivaria's approach is inflected through critical theory and an enthusiasm for the digital. Its editors admit that it has sometimes neglected more fundamental principles of the profession, such as arrangement and description, which led to a special issue on the subject. Even so, the issue focused on re-theorizing these basic principals of the profession to apply to digital and born-digital documents, displaying perhaps an anxiety, or an impatience, with the basics of the profession. Two other recent special issues have focused on electronic records, which demonstrates the journal's zeal for the digital, perhaps best summed up by Geoffrey Yeo in Archivaria 74: "Far from feeling threatened by the fluidity of the digital order, we should be able to take advantage of the new capabilities to help overcome some of the limitations of paper-world methods." ("Bringing Things Together: Aggregate Records in a Digital Age," Archivaria 74, 42-91.) The electronic records issue also includes a compelling look at Emory's Manuscripts and Rare Books Library (MARBL) acquisition of the "papers" of Salman Rushdie. The collection includes four of the writer's laptops, prompting the creatino of the "Rushdie Born-Digital Archives Working Group," or BoDar, at Emory.
Taking postmodernism as an assumption, Archivaria acknowledges the struggle between theory and practice but relishes in theory anyway, probing the relationship between archives, memory, and meaning.
"Art's power to move reminds us of the need to be aware of the latent and potential layers of meaning within archives and the multifarious relationships they both embody and construct." Alexandrian Buchanan, "Cardiff and Miller's Road Trip (2004): Between Archive and Fiction", Archivaria 73

"An integrated, process-centred, continuum approach is increasingly recognized as relevant to complex postmodern recordkeeping and archiving problems." – Frank Upward, Sue McKemmish, and Barbara Reed, "Archivists and Changing Social and Information Spaces: A Continuum Approach to Recordkeeping and Archiving in Online Cultures", Archivaria 72.
Other interests of Archivaria include social media use by archives, "users," archives and culture, visual archives, queer archives, theorizing authenticity, and the spatial and power dynamics of archives.
Looking back a bit further, we find Archivaria 68 (Fall 2009), a special Queer issue that explores a d
iverse range of issues relating to queering archival logics. Articles address matters of access relating to transgender archival collections, lesbian oral history in Canada, the archival value of gay male erotica and pornography, and the relationship of police to archives via a Foucauldian analysis. The section's guest editors write of "a pressing need to address a gap in existing archival literature" in the introduction, citing a large volume of articles in response to their call for submissions. "Queer archives, situated as they are on the margins," they write, "frequently employ non-traditional methods and approaches."As a point of contrast, American Archivist has only published the word "queer" twice since 1964, neither instance of which is available online, even to SAA members.
Despite its differences, the contrasts between American Archivist and Archivaria aren't so much procedural as affective– American Archivist seems more influenced by nostalgia whereas Archivaria buzzes with anticipation and futurity. Even so, both journals are certainly of the same profession, and their dialectical relationship makes for a particularly useful text when read in conjunction with one another. Taken in combination, the two journals represent current trends or even generational differences in the field: nostalgia and an anxious obligation to "adapt" and "update" to the digital climate, on the one hand, along with excitement for a future (or present) that is postmodern, digital, and queer.